Attention students from 7th grade and up, 2017-18 school year!
Nebraska School Immunization Requirements:
Tdap (Tetanus, Diphtheria and Pertussis (whooping cough)) Vaccine: 1 Dose,
DTaP, DTP DT or Td Vaccine: 3 doses, one given on or after the 4th birthday,
Polio Vaccine: 3 doses,
Hepatitis B Vaccine: 3 doses,
MMR (Measles, Mumps, and Rubella), or MMRV (Combination Shot of Measles, Mumps, Rubella & Varicella (Chickenpox) Vaccine: 2 doses, given on or after 12 months of age; separated by at least one month,
Varicella (Chickenpox) or MMRV Vaccine: 2 doses, given on or after 12 months of age;
Written documentation (including year) of Varicella disease from the parent, guardian, or health care provider will be accepted. If the child has had chickenpox, they do not need any Varicella shots.
Shots that are strongly recommended by CDC (Center's for Disease Control):
Menactra/ Menveo; Bexero/Trumemba (Meningitis): 1 dose starting at age 11-15 and/or one dose after 16 years of age. Meningitis is rare, but can be very serious. In as little as 12 hours, meningitis has been known to cause permanent brain damage, limb amputation and death. It is spread by coughing, kissing or sharing drinking glasses. It's not worth the risk. (Older students, ask your medical provider about Bexero or Trumemba.)
Gardasil (Human Papillomavirus (HPV)): *(NEW Schedule) 2 doses, 6 months apart; when done before age 15. Gardasil is a safe and proven way to prevent future cancers caused by HPV infection. Studies have shown there is a better immune response by the body when given at a younger age. This shot can be given as early as age 9 -10 years of age.
Hepatitis A: 2 doses; 6 months apart. Hepatitis A is a contagious liver disease that can range in severity from a mild illness lasting a few weeks, to a severe illness lasting several months. One way Hepatitis A can spread is by eating foods prepared by someone that did not wash their hands well after using the bathroom.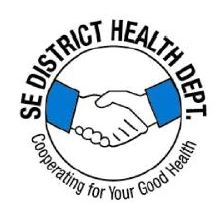 Southeast District Health Department
2511 Schneider Ave
Auburn, Nebraska 68305
Phone: (877) 777-0424 or (402) 274-3993
Fax: (402) 274-3967
Reminder:
Even though Southeast District Health Department no longer has the traveling Immunization Clinics, we still provide immunizations to those that qualify for Vaccines for Children (VFC). This is offered at our Auburn office. We kindly ask for a $15.00 administration fee. Please call for an appointment. A Spanish interpreter is available upon request.
For more information on immunizations, contact your Health Care Provider, Southeast District Health Department, or www.cdc.gov