Living History Day - 5th & 6th grades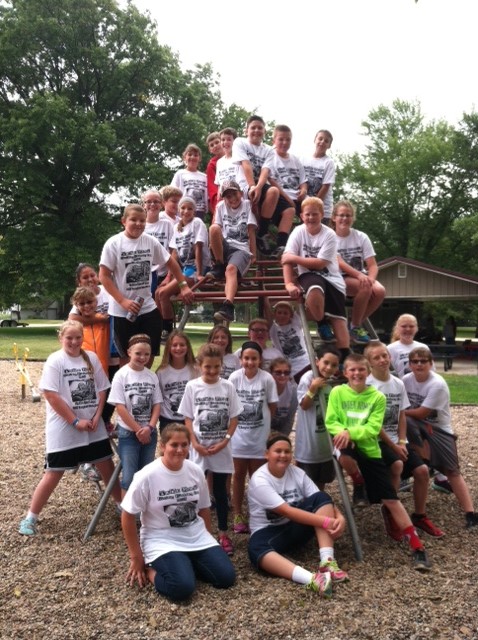 Living History Day 2014
On September 29, 2014 the 5th and 6th grades had the privilege of going to Living History Day in Table Rock. The students had several demonstrations: the Steam Engine, Country School & Log Cabin, Vets, Stehlik Tours, Marble Maker, Print Shop, Otto Rosfeld, The Blacksmith, and David Seay.
One of the students' favorite was the Marble Maker, because he melted glass with a torch, put several different colors of glass in a marble, and used a mold to actually make the marble. He sells them at the hobby store in Beatrice. He makes several different sizes. The students especially liked the musical demonstrations. Otto Rosfeld played a song on an old washboard, using thimbles on his fingers. David Seay played several different types of instruments made out of objects that made it quite interesting. He had penny whistle, a bugle made out of a yak horn, a bow string made from horse hair and a wooden stick, a carpenter saw which he used the bow string on, and a harmonica. The blacksmith was very intriguing and smelled a lot like coal. He made several different objects. The students wanted me to buy a snake that he made as a class pet. That is the closest they would get to a snake in my room. The Print Shop had our very own Mr. Salberg as a presenter. He showed the students how an old newspaper press worked, and told them the story of the owner who left one night and never made it back. The Print Shop is in the exact way he left it the night he died. Mr. Salberg did an excellent job, and the students enjoyed having someone from our school presenting.
We had several parents go with us, which was great because we were all split in different groups. We really appreciate them helping us out! Thanks again to Ria, Nicole, Mark, and Rebecca, and to Gary for getting us there and back safely!!!! We all had a beautiful day.
Ms. Kate and Mr. Boldt